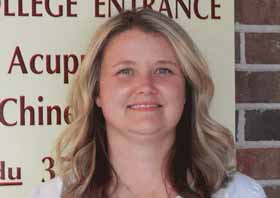 Christina is responsible for recruiting and marketing for the College and Clinic. She also coordinates student activities, career services and alumni relations.
Christina graduated Dragon Rises College in December of 2019 with both a Master of Acupuncture and Oriental Medicine and a Bachelor of Health Sciences. Christina has also earned both an Associates in Arts (2007) and an Associates in Science (2008) from Florida Gateway College.
Christina is currently a licensed and practicing Physical Therapy Assistant and is working towards successfully completing her acupuncture boards.