Dragon Rises College of Oriental Medicine is located in Gainesville, Florida, a major health education center in the southeastern United States.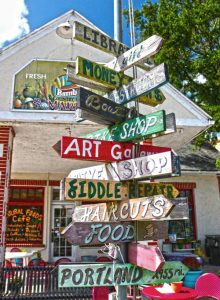 Gainesville is home to the University of Florida, with its medical and veterinary colleges, and Santa Fe College, which has a variety of health-related programs. These schools have extensive library facilities that are available to DRCOM students. Gainesville is also an educational center for training in alternative healing.
Our college is near the center of the city, and is a complete educational facility with lecture rooms, a student clinic, herb dispensary, student lounge, library, study room, and administrative offices. Audiovisual equipment, anatomical models, textbooks, and charts are regularly used in the classrooms. The college also contracts with outside clinics to provide students with an opportunity to observe other practitioners.
Students can bring their own laptops, or have computer access in the Administrative Assistant's office and in the conference room. There is also a computer in the study room, dedicated to practice tests for the certification boards.
The clinic includes a waiting area, clinic office, herbal dispensary, well-equipped intake and treatment rooms, and an open bay for additional treatment space. In addition to bulk herbs, the herbal dispensary carries patent herbs and granulated herb material. The dispensary is outfitted with a herb grinder, reference texts, herb computer, and shelving units containing 322 individual herbs in glass jars.
There is ample, free parking around the school, and most parking spaces are in the shade!
Gainesville itself is a city of 120,000, located amidst countryside that is essentially rural and graced with sunshine, lakes, rivers, crystal-clear springs, warm weather, and clean air. It is less than 2 hours' drive from Orlando, and 1.5 hours from both Jacksonville and Florida's Atlantic and Gulf beaches. The area cost of living is reasonable and there is readily-available, low-cost housing. Gainesville provides both educational and employment opportunities for students' partners and families. The town has all the attractions and facilities one would expect in a major university center, including several local theaters, a beautiful performing arts center, and the Harn Museum of Art. People magazine has named Gainesville as one of the country's best places to live!
Dragon Rises College of Oriental Medicine meets all local, state and federal requirements (ADA compliant) and is also in compliance with all fire and building regulations. The College is maintained and operated in compliance with federal, state and local regulations pertaining to accessibility and health, fire and building safety. Most recent Crime Statistics are available from the DOE Campus Security website.