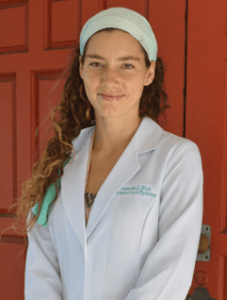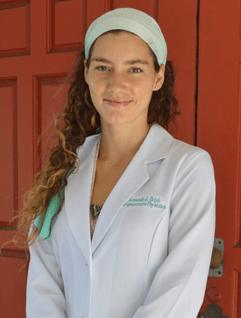 Dr. Amanda J. Bilyk is a licensed Acupuncture Physician and Doctor of Acupuncture and Oriental Medicine (DAOM), a Primary Care Physician in the State of Florida.
Dr. Bilyk holds a Diplomate Certification in Oriental Medicine from the National Certification Commission for Acupuncture and Oriental Medicine (NCCAOM), a Florida state license, and is a Nationally Board Certified Acupuncturist. She also holds a certification in injection therapy.
Dr. Bilyk spent her childhood and teenage years learning homeopathy, aromatherapy, traditional
remedies, mycology, and edible wild herbs from her grandparents and independent studies. In 2004, she began an immersive apprenticeship in Appalachian Medicine while concurrently completing her dual degree B.A. in Anthropology and Sociology at Warren Wilson College.
In 2009, she moved to Peru to continue her education in herbal and alternative medicine traveling throughout Colombia, Peru, Chile, Bolivia, and Argentina. Dr. Bilyk has spent the last 13 years in an intensive apprenticeship with a traditional, indigenous doctor, studying Amazonian plants, the spiritual roots of disease, and sacred medicine ways. She continues to engage in collaborative initiatives with indigenous peoples to preserve culturally relevant practices such as herbal and traditional medicine, weaving and crafts, native plant cultivation and sustainability, and indigenous community development.
Her primary goal is an alternative, health education for patients and to create a bridge between the current, Western medical paradigm and the Eastern medical traditions. To achieve this goal, she emphasizes a collaboration with Western medical physicians of various specializations to achieve patient goals, such as obstetricians and gynecologists in a clinical environment, for assisted reproductive therapies. She delivers diverse Oriental and alternative therapies in the alleviation of symptoms associated with a broad spectrum of diseases, including musculoskeletal pain and inflammation, stroke rehabilitation, neurodegenerative diseases such as Parkinson's, Alzheimer's, and multiple sclerosis, reproductive disorders such as menstrual irregularities, infertility, polycystic ovarian syndrome, and uterine fibroids, as well as psychological and emotional disorders such as anxiety, stress, and insomnia. She customizes individual treatments to mitigate symptomatic manifestations and address the root causes of various pathologies based on unique diagnoses within Oriental Medicine. Ella habla Español.